Alkira Boatshed has been owned and operated by Phil and Margaret Heaney for 25 years. Tom and Kathryn Kershaw are very excited to have taken over the business and continue providing a great service into the future.
Born in Fremantle, Western Australia Tom realised his passion in boats and the sea at the age of 15 working onboard a square rigged barquentine (STS Leeuwin II). Tom and the ship sailed the WA coast from Darwin in the north to Albany in the south teaching a sail-training programme to local trainees onboard. In 2004 Tom took the opportunity to cross the country to work and live onboard 'Our Svanen' a Danish barquentine circa 1922 (now called Southern Swan), they spent their time cruising Sydney harbour and doing short trips up and down the coast.
In 2005 Tom joined HMAV Bounty (the ship from Mel Gibson's 'Mutiny on the Bounty). During this time on Bounty Tom was part of a major refit to remove her main lower mast and complete repairs to the hounds and cheeks. Also over-hauling her traditional rig. With Bounty's sale on the cards Tom moved over to Noakes Boat and Shipyards at Berry's Bay to start an apprenticeship as Shipwright. Tom received a well rounded education of maintenance and repairs. After expressing an interest in the traditional skills of boatbuilding Sean Langman made sure Tom was involved in as many projects as possible including the restoration of his much loved 28' Ranger 'Maluka' (which is the oldest and the smallest boat to compete in the Sydney to Hobart).
In 2008 Tom went back to sea onboard James Cook's 'HMB Endeavour' sailing as a Topman (Watch leader), Bosun and Shipwright. Sailing included taking the ship to Melbourne for the Commonwealth Games, an extended voyage to Brisbane and many short trips along the coast. These trips were life changing for Tom as he met the love of his life onboard, on a voyage from Port Macquarie to Newcastle. After dragging Kathryn from her Graphic design job in Newcastle, Tom and Kat stayed with the ship at the Australian National Maritime Museum where he completed his trade certificate and they sailed onboard together.
In 2011 Endeavour completed a major refit at Garden Island Navy Base where Tom and a team of riggers constructed an entire new traditional rig for the ship. In 2012 Tom and Kat bought a cottage in Belmont and moved up to Lake Macquarie where Tom went to working for himself and Kat went to Graphic Design. Tom joined Phil and Margaret Heaney at Alkira Boatshed in 2015 to assist with the build of Athena. Phil's design inspired by the Maine Lobster Boats. Athena is 46', planked in hoop pine, and fitted out with western red cedar, huon pine and rosewood.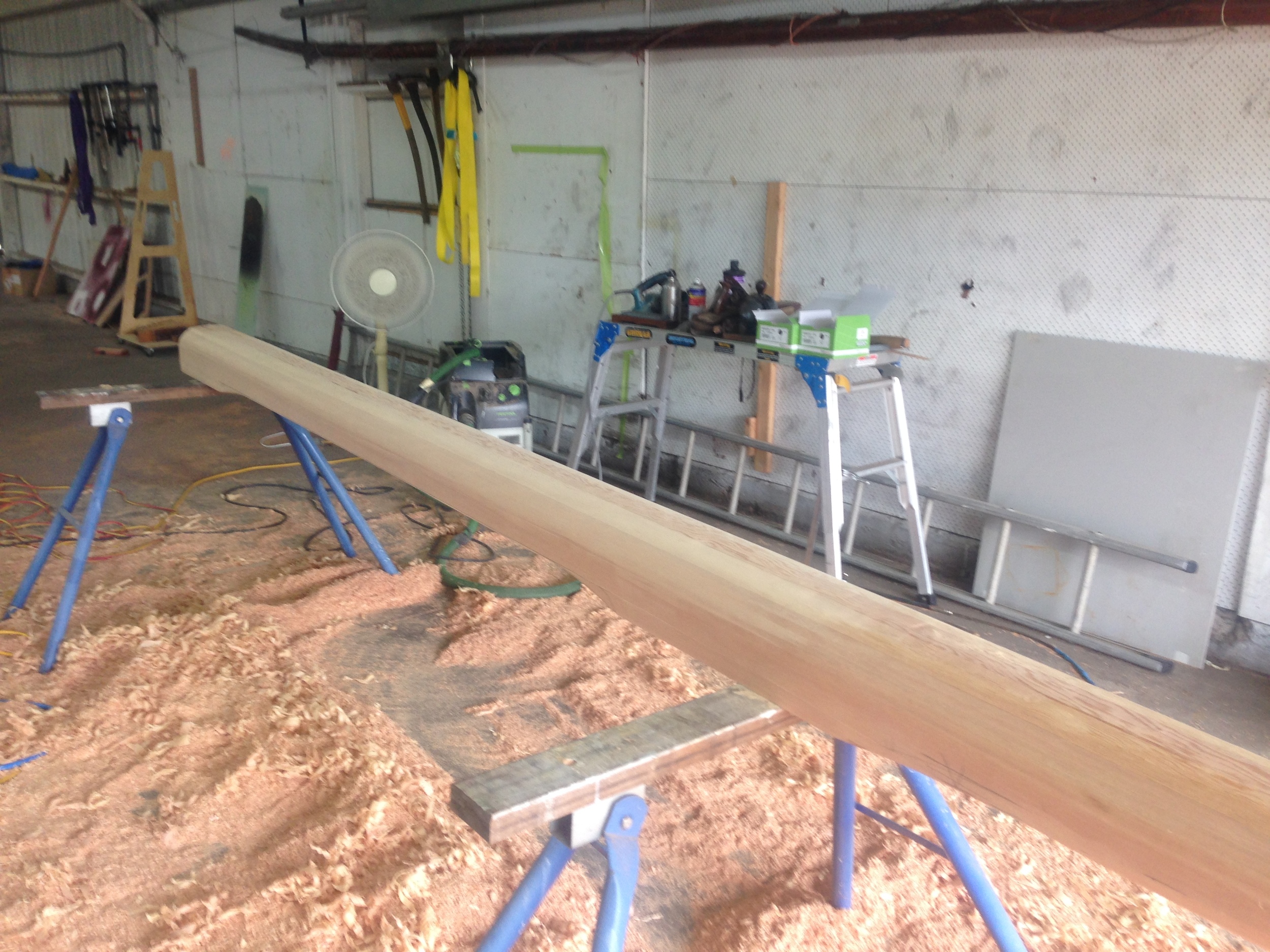 Tom and Kat are looking forward to the adventures ahead with the birth of their first child in May and taking over Alkira Boatshed in July 2016.